Daisuke Yamamoto is a video game developer, known for Puzzle & Dragons.
Download Starter 2
Edit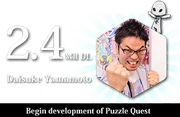 For the 2,400,000 downloads milestone of the Download Starter 2 campaign, Yamamoto will begin development of "Puzzle Quest" for Terra Battle.
Yamamoto's Puzzle Quest was added in version 3.7.0.
Comment:
" It's a wonderful surprise to be able to now participate in working on Terra Battle--a game that I've been hooked on since last year!
I hope this leads to a new partnership that surpasses company barriers and energizes the whole gaming industry! "

— Daisuke Yamamoto, Terra Battle Download Starter
External links
Edit
Ad blocker interference detected!
Wikia is a free-to-use site that makes money from advertising. We have a modified experience for viewers using ad blockers

Wikia is not accessible if you've made further modifications. Remove the custom ad blocker rule(s) and the page will load as expected.