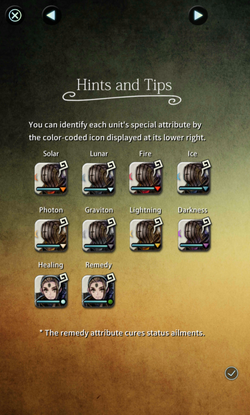 Some characters and enemies have attributes that play an important role in battle.
There are eight attributes:
There is also one attribute that is only for skills:
Six of the attributes are also categorized as elements. Each element has an opposing element that it does double damage against. This increased damage applies to both sides of the opposition, and applies to both player and enemy units.
All elemental skills use the Magic Attack stat to calculate damage. The element of the skill is taken into account when dealing damage, and the element of the unit is used when receiving damage.

Healing and
Remedy are support attributes. They do not have any advantages or weaknesses against other attributes.
Non-elemental
Edit

Non-elemental magic is considered to be a separate type of damaging magic. It has no strengths or weaknesses against other elements. While non-elemental skills exist, unlike the other attributes, there are no non-elemental characters.
Ad blocker interference detected!
Wikia is a free-to-use site that makes money from advertising. We have a modified experience for viewers using ad blockers

Wikia is not accessible if you've made further modifications. Remove the custom ad blocker rule(s) and the page will load as expected.