For the enemy boss based on this person, see Sakaguchi.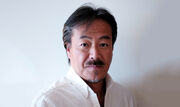 Hironobu Sakaguchi is a Japanese video game designer and is currently in charge of Mistwalker Studios. Sakaguchi is most famous for having created the Final Fantasy franchise while at Square (now Square Enix). Sakaguchi has also had a substantial role in many other iconic games, including Chrono Trigger, Parasite Eve, Xenogears, and Final Fantasy Tactics.
Sakaguchi left Square Enix in 2004 and founded Mistwalker Studios. Mistwalker has produced several games since it's inception, most notably the Nintendo Wii JRPG The Last Story. Terra Battle is his most recent game.
See also
Edit