Hitoshi Sakimoto is a video game composer and arranger, best known for scoring the games Final Fantasy Tactics, Final Fantasy XII and Valkyria Chronicles.
Download Starter 2
Edit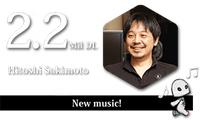 For the 2,200,000 downloads milestone of the Download Starter 2 campaign, Sakimoto will compose new music for Terra Battle.
Sakimoto's songs were featured in Vengeful Heart, which was released in Version 4.4.0.
Comment:
" Hello, this is Sakimoto.
I play Terra Battle frequently in my free time, so having the privilege to work on it is quite an honor.
I hope the music complements the story in such a way that everyone can enjoy. "

— Hitoshi Sakimoto, Terra Battle Download Starter
" Hello everyone! Hitoshi Sakimoto here.
I wrote these 3 songs based on a single theme: removing all humanity and warmth, leaving only the bitter cold.
They were recorded by VGO in Boston. Everyone was super hyped to play after they found out it was for Mr. Sakaguchi's game!
I hope you like them! "

— Hitoshi Sakimoto, [Vengeful Heart] at the Arena! Ends 1/30/2017 3:59 PM PST.
External Links
Edit