For the enemy boss based on this person, see Fujisaka.
Kimihiko Fujisaka is a Japanese video game character designer and the Character Designer for Terra Battle. He has previously worked on the Drakengard series and The Last Story. He has also contributed artwork to Fire Emblem: Awakening.
Download Starter 2
Edit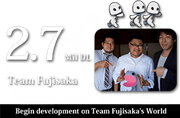 For the 2,700,000 downloads milestone of the Download Starter 2 campaign, Team Fujsaka will created the Arachnobot's Tale quest for Terra Battle. It was added to the game and released as an event in Version 4.8.1.
Ad blocker interference detected!
Wikia is a free-to-use site that makes money from advertising. We have a modified experience for viewers using ad blockers

Wikia is not accessible if you've made further modifications. Remove the custom ad blocker rule(s) and the page will load as expected.