Naoto Ohshima is a Japanese artist and former Sega employee who is best known for his original character designs of Sonic the Hedgehog and Dr. Eggman. After leaving Sonic Team, Ohshima formed an independent game company called Artoon. There he went on to work on such games as Pinobee and Blinx: The Time Sweeper, and in 2004, the sequel to Blinx, Blinx 2: Masters of Time & Space.
Download Starter
Edit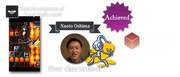 As a part of the Download Starter, after 700,000 total downloads of Terra Battle, new characters designed by Ohshima were added as enemies in the Hedgehog Hullabaloo daily quest.
Ad blocker interference detected!
Wikia is a free-to-use site that makes money from advertising. We have a modified experience for viewers using ad blockers

Wikia is not accessible if you've made further modifications. Remove the custom ad blocker rule(s) and the page will load as expected.