For the enemy boss based on this person, see Uematsu.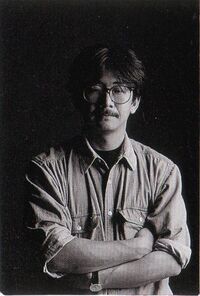 Nobuo Uematsu
is a Japanese video game composer most famous for scoring the majority of the games in the
Final Fantasy
series.
Uematsu and Final Fantasy/Terra Battle creator Hironobu Sakaguchi have worked together on many video game titles, most notably the games in the Final Fantasy series. He left Square Enix in 2004 to found his own company called Smile Please, and the music production company Dog Ear Records. He now serves as a freelance composer and was responsible for Terra Battle's score.
See also
Edit
Ad blocker interference detected!
Wikia is a free-to-use site that makes money from advertising. We have a modified experience for viewers using ad blockers

Wikia is not accessible if you've made further modifications. Remove the custom ad blocker rule(s) and the page will load as expected.