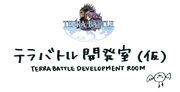 Terra Battle Development Room (Japanese: テラバトル開発室 Terabatoru kaihatsu-shitsu) was a Japanese live broadcasting program where news about upcoming changes to Terra Battle were announced. This program has been replaced with Bar Hiso Alien.
Volume 3
Edit
Volume 2
Edit
"We will talk about "About Terra Battle 1 year anniversary", "Mobius Final Fantasy Collaboration", and "About VS mode"."
Volume 1
Edit
Date: August 12, 2015
In-game annoucements:
"We will introduce new feature of Terra Battle including coming app Version 2.9.0."
Ad blocker interference detected!
Wikia is a free-to-use site that makes money from advertising. We have a modified experience for viewers using ad blockers

Wikia is not accessible if you've made further modifications. Remove the custom ad blocker rule(s) and the page will load as expected.