The contest has ended! CONGRATULATIONS to the following users:

Winners will be receiving an email with instructions regarding how to claim your prize shortly. A big THANKS to everyone who participated in this contest -- there were a lot of amazing submissions and picking winners was no easy task.
All information below this line is outdated.
---
Great news Terra Battlers!
The Terra Battle Wikia has got its hands on 20 copies of the Terra Battle strategy guide! Each guide includes a rare code for the SS ranked character Yulia! Yulia is a powerful, sword-wielding adventurer with 3 jobs and the handy ability to pickpocket her foes for extra coins. Even better, the guides have all been signed by Hironobu Sakaguchi himself! What more could you want!?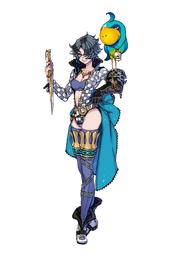 How to Enter:
Leave a logged in comment (new users can register an account here) that answers the following question: What's your favorite strategy when playing Terra Battle? Your strategy can include team-building tips, quest beating steps, or any valuable tactics you use to master your Terra Battle challenges!
Important Note: These strategy guides are entirely in Japanese, it's still packed with great artwork and a Download code for Yulia though. The Download code is in the back of the book, sealed in an envelope. If you're one of the lucky chosen winners, please make sure to redeem the code right away since it expires in July!
Terms & Conditions
The Giveaway ends June 12th, 2015 and winners will be contacted on or about June 18th, 2015. Because of legal reasons this contest is only open to registered Wikia users in the United States/Canada and the UK. Please check out the official rules here.
---
---