Yoshinori Kitase is a game director and producer working for Square Enix. He has worked on several Final Fantasy games, as well as Chrono Trigger and a few Kingdom Hearts games.
Download Starter 2
Edit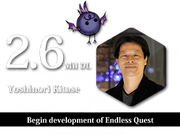 For the 2,600,000 downloads milestone of the Download Starter 2 campaign, Kitase will begin development of "Endless Quest" for Terra Battle.
"Endless Quest" was released as the Strikes Back series of quests, starting in Version 4.1.0.
Comment:
" Has it been 12 years of working together with Sakaguchi-san? I'll be sure to work hard to to keep my record spotless! "

— Yoshinori Kitase, Terra Battle Download Starter
External Links
Edit
Ad blocker interference detected!
Wikia is a free-to-use site that makes money from advertising. We have a modified experience for viewers using ad blockers

Wikia is not accessible if you've made further modifications. Remove the custom ad blocker rule(s) and the page will load as expected.